Hello everyone!
I'm so tired today, and I woke up at 2pm, which is damn lazy! It's because I was awake for 40hrs haha. On Friday I went out with my friends from school again and I had a blast! We went to a place in Kingston called "The Fighting Cocks" which is an alternative/metal bar with a venue, pool table and Guitar Hero room, and they also have comedy shows there with really big names like Bill Bailey and Robin Williams! I went for the first time last summer, and when I went on Friday I felt rather out of place as I had tiny shorts on, heaps of makeup and generally looked more girly than some of the blokes with long hair in there, but the atmosphere is great, so noone really cares. I saw a guy in there that I met in a club once who seriously plays women around. He works for a betting company and his "blog" is about horse betting....right. I don't know if he clocked that it was me or not, but whateverm he's a PRICK
The Fighting Cocks Kingston
http://www.the-fighting-cocks.co.uk/
56 Old London Road
Kingston-Upon-Thames
KT6 6QA
0208 974 6469
They have a jukebox full of every alternative music genre ranging from hair metal to grunge, but the majority of the music played is stuff like Iron Maiden, Metallica, Megadeth and things like that. Although im obviously into JPop, JRock and stuff, I do still have a metal streak in me! My friend is always telling me about bands she has discovered and always playing me their stuff. She's cute. I love her :D
Remember a couple of blogs ago when I talked about the Japanese Art Festival and I mentioned something about TokyoFashion.com? We're on it!
We've been put under the 6%dokidoki (and there was me writing tokidoki haha) article: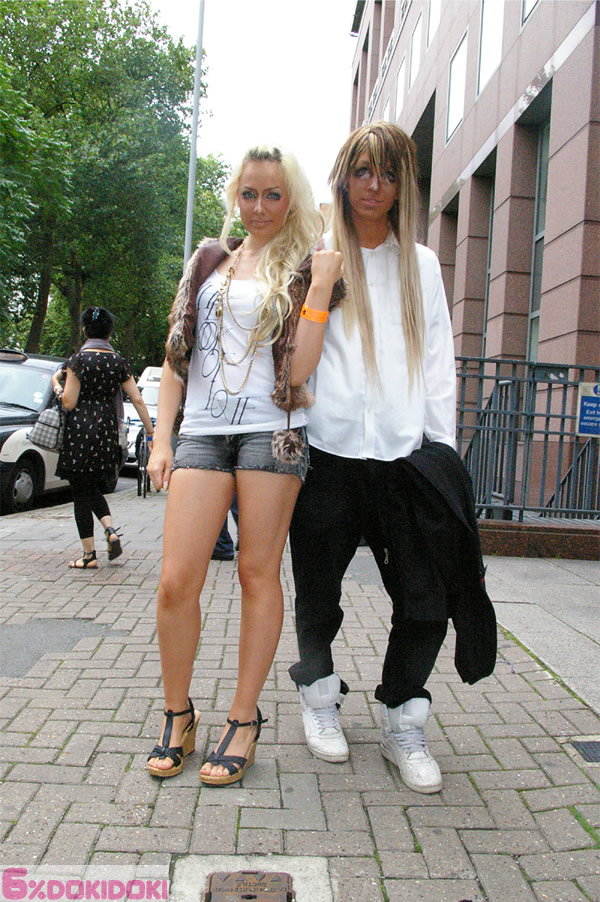 I'm proud!!!! The angle of the photo make me look a bit funny but i'm still happy!
The next Japanese related event i'm going to is Hyper Japan, which i've mentioned before, and i'm missing out on Matsuri this year as that's when i'll be away with my man. We go not next week, but the week after!! Ooo! And then i'll be off to Japan 2 weeks after that!! Actually, while I remember, and although i'll write this again just before I go, my Japan trip dates are:
OSAKA : OCTOBER 4TH-7TH
4th: Arriving in the evening
5th: Sightseeing, souvenir buying, free to meetup with people
6th: Universal Studios!!
7th: Spending the day in Kyoto and travelling to Tokyo in the evening by highway bus haha
TOKYO : OCTOBER 8TH-19TH
8th: Arriving in the morning
9th: Caryn arrives!!
Then until the 19th, we'll be free everyday, but we'll also be visiting places like the Studio Ghibli Museum, Shibuya 109, and maybe Ueno Zoo as it was closed the last time we were in Japan as the day we wanted to go was New Years Eve...haha We fly back on the 19th, but our flight is at like 11pm, so we'll be free in the day and will head back to Osaka at about 7pm, just to be on the safe side! Please let me know if you want to meet up! I know Emma/Bloomzy already asked me about meeting up, but if anyone else who reads my blog will be there and wants to meet, then shout! As i've said, i'll rewrite this info a day or two before we actually fly, and then i'll try and remember to update while we're out there!
Yesterday I went back to Kingston, but in the daytime, to do some shopping and I spent nearly £90 in H&M...haha:
soooo comfortable! and H&M have a sale on denim right now, it's £10 off anything, with a minimum of 2pcs per customer, so these got reduced to £19.99 from £29.99 which is great and I needed some new jeans, and these are a great price, a great fit and as I said, damn comfortable, so yay!
Again, damn comfortable!!!
I really love this cardi the more I look at it
This top is actually a light pink, but the photo doesn't really capture the colour well. I love how the skull is made up of mini leopard spots!
I also bought some (much needed) new eyelashes from MAC, #7's and some new Zoom Lash mascara:
And just randomly, here is a photo of my current makeup, which in this photo, looks different to what it looks like haha. Maybe I should get a new camera haha
I'm working on some tuts right now, so :D
Bye!